Quilter Cheviot
Quilter Cheviot has built a strong reputation over several hundred years as a respected firm of investment managers. Quilter Cheviot focuses on structuring and managing bespoke portfolios for charities, private clients, professional intermediaries, trusts and pension funds.
How do you navigate investment challenges & opportunities?
When it comes to investment, we help charities by thinking beyond the obvious.
Over £1.8 billion of charity assets under management (as at 30/06/2018).
We support charities by providing a comprehensive educational programme through roundtable discussions, seminars and knowledge guides. We also specialise in helping charities with ethical investment.
For further information contact Charles Mesquita on 020 7150 4386 or charles.mesquita@quiltercheviot.com or visit www.quiltercheviot.com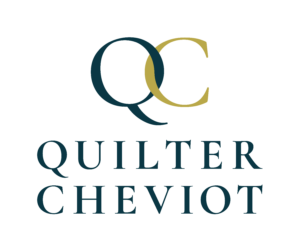 Quilter Cheviot Limited is registered in England with number 01923571, registered office at One Kingsway, London WC2B 6AN. Quilter Cheviot Limited is a member of the London Stock Exchange and authorised and regulated by the UK Financial Conduct Authority.